For the first time, a PHL women's kendo team competes internationally | Sports | GMA News Online.
via For the first time, a PHL women's kendo team competes internationally | Sports | GMA News Online.
For the first time, a PHL women's kendo team competes internationally
by Kristopher Inting    March 4, 2013    5:02pm
The Philippines will be sending a women's kendo team to compete in the 13th Hong Kong Asian Open Kendo Championships, this March 8-10, 2013. Though the country has previously sent representatives to this event, this will be the first time that the Philippines will send a women's delegation.This year the Hong Kong Asian Open will be held at the Tin Shui Wai Sports Center in Hong Kong. The Open is an annual event that invites kendo clubs and national delegations from all over the Asia-Pacific region. There are three events, a junior men's event, a women's open event, and a men's open event, all of which use the team format, with three representatives for the junior men's and women's open and five persons for the men's open. Team members face-off against their counterparts from the opposing team, and the winning team is the one with the most number of individual victories.The Philippines has been sending representatives to both men's events for a number of years now, but this year will mark the first entry of a women's team. There will be four representatives, three main competitors and one alternate. They are: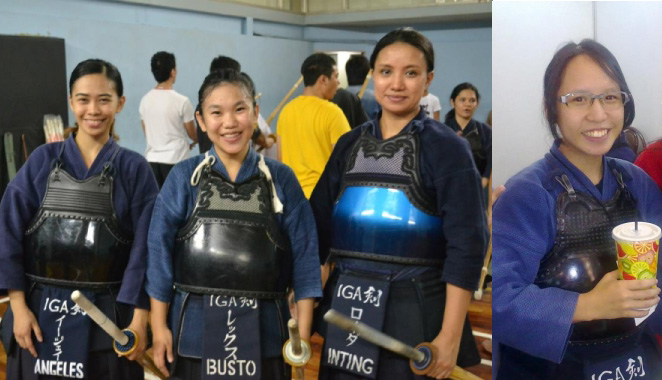 The women

of the Philippine team:

(L to R) Ejay Angeles, Lex Busto, Loida Estanilla-Inting and Dardsie Abriol-Santos. Anthon Cayaco and Mikhail Enano
Loida Estanilla-Inting – IT consultant, with over eight years of kendo experience and taisho (team captain).
[Editor's note: In the interest of full disclosure, the author is the husband of Mrs. Loida Estanilla-Inting]
Ejay Angeles – Full-time practicing nurse
Lex Busto – Current president of the UP kendo club.
Dardsie Abriol-Santos – Mining geologist, and former president of the UP Kendo Club.
What is kendo?
Kendo is a Japanese martial art, essentially, the Japanese version of fencing, where two opponents engage in combat using bamboo swords and armor. This sport has many ties with traditional Japanese culture, specifically that of the samurai warriors of feudal Japan.
Kendo has a heavy emphasis on competition. Tournaments of all levels (primary, high school, collegiate, amateur, semi-professional, and police/military) are held frequently in Japan. To showcase the art's international appeal, the World Kendo Championships is held every three years, rotating among the various member countries of the International Kendo Federation. Between these two extremes, there are regional competitions that pit teams from neighboring countries against each other, such as the Hong Kong Open.
Women and kendo
It may seem strange that women would want to participate in this physically demanding activity that is traditionally dominated by men, but women's kendo has been slowly but steadily increasing in appeal. A local example is the IGA-Kendo Club in Quezon City, where over one-third of the 50+ regular students are women. It is from this pool of talent that the four women representatives for the Hong Kong Open were drawn.
Why would women take up Kendo? For the younger members of the team, the reason was either to get into a different kind of sport or because of the influence of Japanese pop culture, especially anime and manga. Their reasons for staying and sticking with Kendo are a bit more profound.
"Feeling ko, belong ako sa isang family," Angeles says. "Kahit na pagod ako, I still do my best. Everyone na nagtuturo sa akin…gusto kong ipakita sa kanila na eto ako, dahil sa inyo."
Busto says she has learned important life lessons from her training. "Doing your 100%, no matter what. Ginagawa ko na rin yan sa aking life."
For Abriol-Santos, "The kendoka (kendo players) I have met have pleasing personalities. Everyone helps each other improve their kendo. Our sensei (teacher) and sempai (seniors) give their precious practice time to us who are lower in ranking and skill by practicing with us and continuously gives us advice on what we should improve on and how we could improve them."
She adds, "And I believe I look awesome when I wear the uniform."
Joining the Hong Kong Open
How is it that the Philippines is able to send a Women's Team this year? Estanilla-Inting opines, "There has to be someone who would advance the idea that Filipino women kendoka can actually compete internationally. In the previous years this has not happened, but with more women taking it up I felt that it was the right time. So I took up the challenge."
She has the full support of the head sensei of the IGA-Kendo Club, Mr. Igarashi Koji. He is a firm believer that one should follow their convictions wherever they lead a person. After approaching him with the intention of forming a team for the Hong Kong Open this year, they immediately set about selecting members from the pool of kendoka in their club.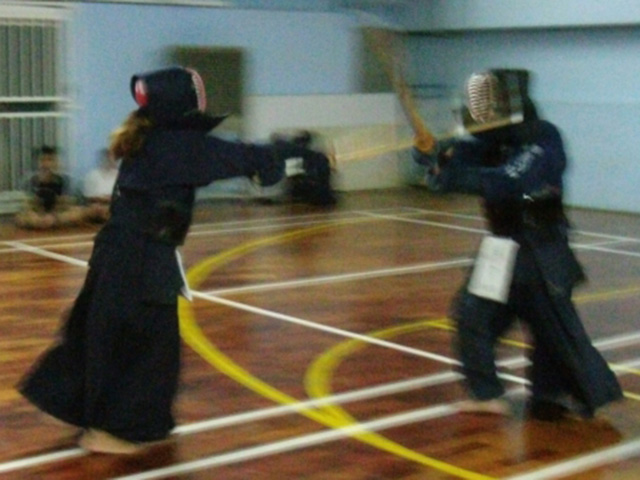 Ejay Angeles (L) practices against a male dojo-mate. Anthon Cayaco
The junior members of the team all individually have three years experience or less, of doing Kendo. This is collectively less than the number of years that Estanilla-Inting has been training, so being picked for the team came as a surprise. Busto said, "Nagulat ako, and pressured at the same time. Alam ng lahat na ang tingin ko sa sarili ko ay hindi magaling. I'm just trying my best."
Angeles wrestled with her own disbelief about her selection. "Siyempre hindi ako makapaniwala! Una sa lahat, isang taon pa lang ako nagke-Kendo, tapos napili na ako. Na-feel ko din yung pressure, pero I will still do my best."
Abriol-Santos is a bit more introspective. "Since we're going to be the first Women's Team, there's no one to compare us to. However, we would be setting the standard so it's up to us to do our best and set that standard as high as we could."
Estanilla-Inting also admits to feeling the pressure of competing for the first time internationally. "I need to do my best. I need to set an example for the members of the team, and for the other ladies who will be following our footsteps."
The challenges before and during the competition
Getting the ladies of her team ready has been challenging for Estanilla-Inting. "Balancing your personal life, your work life and the time you spend training has been difficult", she says. With very little funding and no government support, training and competing is done on their own time and expense. She has done her best to get her team ready, but she is being realistic about their chances. "It's going to be tough. We're expecting it to be tough because this is the first time we'll be joining. There are women there that have so much more experience in competition than we have."
Even with their underdog status, Estanilla-Inting does think that the team can pull off some surprises. "At the very least, I think we will surpass our sensei's expectation of getting at least one point in at least one of our matches," she laughs.
Estanilla-Inting adds that regardless of the outcome of their competition this will be a good experience for the members of the Women's Team. "I am so excited for them, because my previous experiences in Hong Kong have always been unforgettable. Even if I have not experienced competing before, I remember that whenever we would go to Hong Kong, I would come back more passionate about kendo.
"I can only hope that this will be the same experience for the members of the team."  – AMD, GMA News